After a long, but quite comfortable flight with BA, we arrived in Bangkok. After some messing about due to BA/Qantas losing our luggage (apparently it happens all the time on that flight route), we eventually got out of the airport -- and into the 35-degree heat! We went straight to the hotel, got showered and crashed out.
Bangkok
At Luke McManus' suggestion, we had booked our hotel over the internet, taking advantage of the hefty discounts you get that way. It was pretty posh, although a little far outside the city... good call Luke. As a result it also meant we had a good location to leave our larger bag (full of Australia stuff, like cold-weather clothes etc.) while we mooched around Thailand. Another bonus was a rooftop pool -- we checked this out and had the unique (for us) experience of a swim in the rain being quite pleasant ;)
We spent a couple of days in Bangkok, checking out the Khao San road, visiting Wat Po and the Grand Palace. Wat Po was notable for Catherine being interviewed by a group of Thai schoolkids -- they were obviously told to do this as an assignment to try out their English, and they carried it off very well! Also, Wat Po features a gigantic, golden reclining Buddha -- definitely worth a look.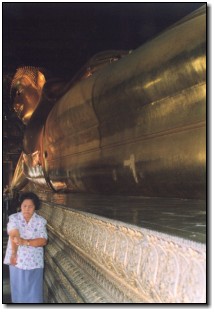 We also had our first experience of Thai touts, with their lines like "Wat Po is closed today, but go here instead" etc. They have nothing on Tunisian touts, since they still take "no" for an answer!
The Grand Palace is very impressive as well -- huge, baroque ceremonial buildings. Got a few good pictures of this so I might put them up at some stage. Apparently, it was "Buddhist Lent", so a large ceremonial procession was underway while we were there, which was interesting (and handy, as it meant we got in for free, by going in the local's entrance by accident).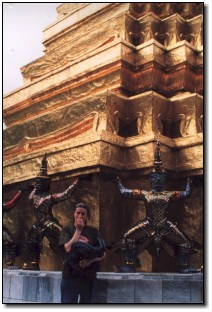 Ko Samui
Anyway, after a couple of days in Bangkok, we headed down to the islands -- namely Ko Samui. We paid about 70 quid for flights, which were well worth it; after an hour's flight we landed in Ko Samui airport, which consisted mainly of an air strip and 3 wall-less grass huts - cool!
We weren't planning to hang around Ko Samui, so we just booked 1 night at a small hotel near Bo Phut, where a boat went to Ko Pha-Ngan the next morning. After our first swim in the Gulf of Thailand (pretty pleasant and warm, as you'd expect!) and a tasty meal in a totally deserted restaurant, we crashed out.
Next morning, we found out why the restaurant had been so deserted -- everyone was at the Full Moon party over on Had Rin on Ko Pha-Ngan. The ferry arrived at Bo Phut pier totally overcrowded with some very wrecked-looked tourists -- and we got to spot our first few ladyboys. ;)
Bottle Beach
Anyway, once the revellers were offloaded, we hopped on and chugged across to Had Rin. Got there, had breakfast and got a taxi and long-tail taxi-boat up to Bottle Beach. Unfortunately, it seemed that by the time we arrived, everyone else had decided that Bottle Beach was the place to be -- so we got stuck in the very last hut on the beach, with no aircon, no fan, and very little else, in 35-degree heat! Lots of swims and cold showers were called for -- typically it was impossible to stay in bed after about 8am due to the heat.
Bottle Beach is pretty small, and only accessible by boat; at one end there's the Smile huts and restaurant (which had the coolest restaurant, good food and lots of sitting on those Thai cushions at low tables and chatting to other people). Then there's Bottle Beach I and Bottle Beach II (where we were staying).
We hung around Bottle Beach doing nothing much - swim, eat, swim, read, swim, eat, drink for a few days, and met a good few interesting people, including an Irish couple who we commiserated with about missing pets, while drinking their Maekong whisky and coke!
Tong Nai Pan
After 3 days, we scooted over to the next beach along, recommended by our taxi driver on the way up as the nicest beach on the island -- Tong Nai Pan. I was so pissed off with the heat by this stage that we went from 150 baht per night (about 3 quid) to 1000 (about 20) in order to get a room with a fan. The hotel was called the Parnviman Resort, and is beautifully located right on a huge promontory that divides Tong Nai Pan's 2 beaches; it's fantastic.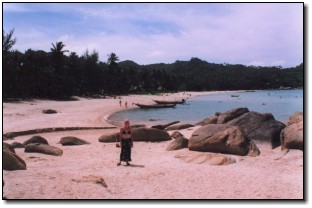 Our room had an incredible view over one of the bays -- and, it turned out, over the hotel's back garden behind the kitchens, which meant great views of 6 tame(ish) monitor lizards! We got some pretty good pictures, although the lizards were pretty wary. We later found out in Ko Tao that you can buy fish to throw to them, getting right up close -- but somehow we managed to not find this out at the time. Ah well!
There was a great restaurant called Bio's on Tong Nai Pan as well; we had some legendary curries (discovering the massaman curry in the process) there, and even got a backdrop of a huge electrical tropical storm, on one night -- very dramatic. I also discovered Catherine's fear of semolina after I had what I thought was a reasonably tasty black rice pudding dessert ;)
Eventually, and after I managed to get sunburnt using my usual technique ("ah I've been using sunblock for long enough, I don't need it today" -- ouch), we decided to head on; a quick sawngthaew (pickup truck shared taxi) ride over some insanely up-and-down tracks took us to the main island town. Thankfully it hadn't been raining heavily or the tracks could have been very hairy.
Somehow or other we'd decided (or been persuaded) to learn how to dive -- it's pricey (150 quid for the basic Open Water course), but since it's cheaper in Thailand than anywhere else, and since it'd be very handy in Oz, it had to be done -- so off to Ko Tao, the de-facto home of diving in Thailand...
Ko Tao
We took a speedboat ferry to Ko Tao. The "ferry" was actually just a large speedboat, quite full to the brim of people, including one guy with his brand new AK-47 and 2 clips. Yikes. The trip was fine, though.
Once we disembarked, we had a gauntlet of touts for the various dive resorts; Luke had recommended one in particular, but a nice guy from Ban's Diving used the power of air-con, and a free sawngthaew taxi ride, to persuade us. The price worked out the same (all the resorts fix roughly the same rates), although I think we had to pay 300 extra per night for the air conditioned room. Sweet! ;)
Anyway, first thing to do was to sign up for the PADI Open Water dive course, then watching some pretty cheesy PADI-produced educational videos for an hour or two, then we filled out a pretty hefty set of forms to cover Ban's in case we drowned, burst our eardrums, or something. Anyway, then it was the usual -- dinner, a few drinks, etc.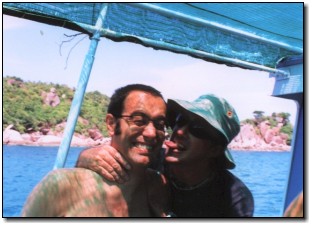 Next morning, it was time to hit the swimming pool with our instructor, Jeff, an Aussie (see above), and the rest of our group. Diving has two big advantages to my mind:
one, the whole point is to conserve your breath and energy, and

two, there's lots of high-tech equipment.
So it's my kinda sport!
Next day, we hit the sea for a couple of open water dives from the dive boat, and got to check out the pretty incredible wildlife -- lots of barracuda, plenty of colourful tropical fish, and even a little family of clownfish with their home -- a metre-wide circle they'd cleared around an anemone. I was hooked.
After a few days, and a few dives, we'd nobbled the Open Water course and got our certification (even despite my pretty disastrous swim test, phew), allowing us to dive anywhere in the world -- pretty handy!
We were pretty hooked, but still not 100% confident we'd be able to dive the Great Barrier Reef on our own, so -- damn the expense -- we signed up for the Advanced Diving course as well.
The Advanced Diving course
Our group consisted of 7 people including Mike, a stoned American from San Francisco; Toban, a very funny physiotherapist from Denmark, and Dara and Jean, an Irish couple doing exactly the same thing we're doing. In fact we're still in touch, as they're living in Melbourne too -- very handy! Dara, Jean and Toban are a great laugh.
First off was a deep dive -- down to 30 metres, to experience the effects of nitrogen narcosis. The thing here is that you're tested with some basic coordination and mental tests; easy enough at the surface, but once nitrogen narcosis takes effect, you get a bit pissed, effectively, and lose sense and coordination. One of our group got totally disoriented, laughing and mixing up the hand signals totally. Can't say I felt much myself -- but then apparently that's what happens as well -- you think you're fine but in fact you're acting like a total eejit.
After getting "narked" and playing with an egg yolk (they are almost impossible to break at that depth due to the pressure), we re-surfaced and took a break for our next dive.
This was the navigation dive, where, given a map of the area, we had to navigate our way back to the boat's anchor line using underwater landmarks. Our instructor -- Jeff, an Aussie -- had bet us 100 baht (2 quid) that we wouldn't be able to find our way back to the boat, so the heat was on. After a slightly ropey start navigating a square by compass and distance reckoning (we ran into another group and lost count of our distance, oops), myself and Catherine swam off to begin our solo navigation.
After about 15 minutes of swimming along our charted course, we were pretty low on air -- it was getting to the stage where we'd have to surface to 5 metres to do the "safety stop" (required to avoid danger of the bends). Just in time, as we were about to head up -- we spotted the anchor line, and it turned out we were the first to get there! Perfect. There's a picture of us receiving the 100B prize for our navigation prowess below. Mind you, Catherine owed him enough beers (for minor infractions of diving rules) to more than make up for it, so we came out at a loss. ;)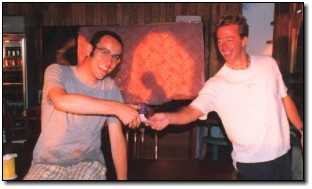 The rest of the afternoon was spent doing "the paperwork" -- there's quite a lot of theory involved in diving, to figure out the safe times and depths you can dive to. We covered this, did a quick multiple choice exam, and headed back to the bar.
After our day of glory, the next day had quite a lot to live up to. It started off with what was basically a fun dive; on the advanced course, you're given an optional component, so I took underwater photography (howzat Dad?!) and Catherine took underwater naturalism (naturally). It was at Sail Rock; basically a rock in the open sea with a gigantic current running past it. Wildlife was supposed to be good there.
Once we started (in the lee of the pinnacle), we swam down a chimney, and got going with the photos and the looking at fish. Next, we decided to head around to the far side of the pinnacle; not as easy as it sounds, as once we rounded the corner, it was straight into the current. Turns out very few people made it, but the two of us did (eventually) -- and were rewarded with some very big barracuda schools and a couple of large groupers, as well as a rollercoaster ride around the rock back to the other side, courtesy of the current!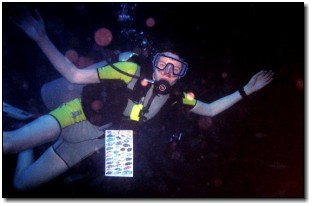 After this, it was safety stop time again; a bit trickier than normal, as the current was angling up towards the surface, and we had to keep a firm grip on the rock with our hands to stay at 5 metres for 3 minutes. Neither of us had a watch, so the 3 minutes was counted out using the old "one alligator, two alligator" method; not so easy when a fish is trying to nibble your fingers.
While we were safety-stopping, Catherine reckoned it'd be a good plan if I took a picture of her; I had a hard time trying to point out that she had a massive nosebleed, and the resulting snap of her goggles filled with blood up to about 2 cm might give her mother a heart attack!
Anyway, I got a few snaps (although most of them came out pretty lousy, due to the sediment in the water from the high current). I'm a bit pissed off that I didn't get a photo of myself though, it'd be handy for the website ;)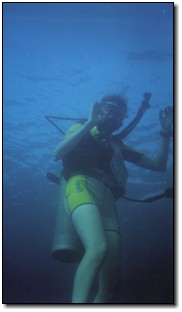 Finally, we got to the last dive of the course -- the night dive. Most of us were a little apprehensive about this, as it was a pitch-black night, and we were a bit worried about getting lost and having to return to the surface on our own, missing out on the dive. Needn't have worried though, it was quite tricky to lose people; the torches are quite visible!
First of all, we hit the water and turned our torches on, and descended to do a few exercises; then swam off. As predicted, some interesting night wildlife showed itself -- including a blowfish! Unfortunately it wasn't annoyed, so we didn't get to see it inflate and stick out it's spines -- but then that's probably just as well.
After some swimming about, the next step was to turn off the torches and check out the bioluminesence. We were lucky, apparently -- it was a very dark night, with little moonlight, so there was lots of this, compared to normal. Basically, every time you move, you hit little plankton, which then luminesce, lighting up like a tiny star; the best way to describe the effect is that it was like you were Tinkerbell, the fairy from Peter Pan!
Anyway, our group, led by our instructor, swam off in the pitch darkness; the only thing we could see was each other's sparkling outlines. It was the most astounding thing I've ever seen; it was as if we were constellations.
After this, we relit the torches and surfaced -- then spent a full 30 seconds almost speechless! An amazing experience.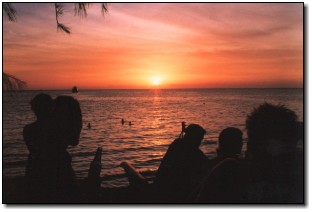 After The Diving
Well, Ko Tao was incredible -- the best part of the holiday by far (up to this point at least, but I'll get to that later).
I haven't mentioned the cool people we met on Ko Tao -- an English bloke called Stefan features prominently, for one! Very nice bloke; he'd even stayed in the same hut we were in on Bottle Beach. He was coming along to the mainland with us, as he'd planned to meet up with a mate to go climbing in Krabi. We're still in touch by e-mail -- last I heard, he'd just done a wreck dive in Malaysia (lucky sod!) and was thinking of going back to Ko Tao to become an instructor. Go for it mate!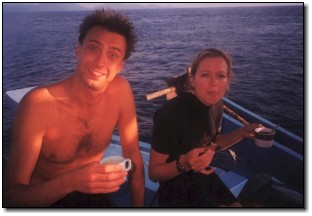 I also can't not mention Noble, a Canadian guy with an excellent email address for travelling with: globalnoble at hotmail.com -- and a great guy to boot.
Anyway, after the night dive and the end of the course, we were officially PADI-certified Advanced SCUBA divers, so we went out for a bit of a session to celebrate -- which didn't quite work out too well, unfortunately. After several buckets -- which actually are small buckets, filled with Thai whiskey, coke, and Red Bull, with 4 straws -- we were pretty langered by the time we headed home. On the way home along the beach, we decided, on an impulse, to have a wee swim, stripped off, stashed our clothes beside some rocks and jumped in. After about 5 minutes, we jumped out again, ran up to get our clothes -- and discovered that my trousers, which unfortunately held my wallet and the fancy watch-camera that work had given me as a leaving present, were AWOL. Luckily, we soon found the trousers and wallet (missing about 20 pounds worth of Baht, but with ATM card and Visa still present). But there was no sign of our diving log-books, our diving certs, or -- worst of all -- the watch...
After some running around, we met another guy who'd had the same experience. We figure that some "resourceful" locals know that tourists, with nicely stacked wallets, have a habit of drunkenly going for a swim after a night out -- and watch for the swimmers to head out into the surf. Once they do, it's easy enough for them to sneak over to the clothes on the dark beach, empty out the wallet and any other handy items, and make off with them.
Ah well... the moral of the story is to travel light, when it comes to valuable stuff. (Normally, I wouldn't have brought the pretty neat watch swimming, but this was a spur-of-the-moment drunken impulse.)
We'd booked to leave the next day on the night ferry, so once I'd cancelled the credit card (just in case) and got some replacement PADI certs and log books, we headed out to report the items stolen so we could claim the insurance. We walked 1km to the police station (tricky enough in the noonday heat!), and attempted to file a report -- but apparently they "had no report forms" and their phone "could only receive incoming calls, not make outgoing ones". Aye right. They assured us that we'd be able to report the theft in Surat Thani, on the mainland -- we weren't sure, but we didn't really have a choice. After some fruitless and expensive attempts to figure out a way to report the crime by phone from the hotel, we gave up and decided to figure it out on the mainland.
The Night Ferry
So -- the night ferry. Cheap -- only 3 pounds for the journey -- and overnight, so we didn't have to waste too much time, and we were pretty much guaranteed to find a decent spot where we were going as we'd arrive early in the morning.
We said our goodbyes, paid up, and the three of us (me, C and Stefan) headed off towards the dock. When we arrived, we were confronted with a wooden fishing boat with a rickety superstructure, which was already pretty much full up. Undaunted, we figured out that there were "sleeping berths", ie. 6-foot wide shelves with mats to lie on, behind the engine below-decks; so we set ourselves up down there. Things were looking a bit rough, with windows cut out from the side of the hull, covered by perspex sheets mounted in wooden frames, which were open to let in some air. As well as this, the engine wasn't in a nice, tidy "engine room"; it was open to the air we'd be breathing, simply surrounded by some planking to act as a barrier to make sure we didn't mess with it. Not a good situation! Still, might as well go for it, it's cheap...
However, things got worse once we got out into the open sea -- we ran into a storm, which caused the boat to creak ominously, pitch, and roll up to about a 35 degree angle on each side. Things were getting a little scary at this point. We rationalised that this situation was OK, since (a) fishing boats in Ireland do this all the time (but how many of them have window-holes cut in the side?) and (b) the 3 Thai passengers (why were there only 3 Thais on board? oh dear) didn't seem too bothered. However, once they jumped up to shut the windows hurriedly after an especially heavy roll, we really started worrying. It wasn't long before I was praying under my breath anyway ;)
After some heavy rolling, the cargo coming unlashed and crashing about, and several hours of terror, I'd figured out that (a) you should keep your head as near to the centerline of the boat to minimise the perception of the rolling and (b) hooking your toes over the end of the shelf was a good way not to fall off when it really lurches. I eventually even got some sleep in -- intermittently.
Thankfully, we made it through the storm, which meant we got some kip in, and eventually docked in Surat Thani. The feeling of relief once we got off the boat was indescribable, and the urge to kiss the pier (ugh) was hard to resist. We took a seat at the nearest food stall, fended off some touts (who were reasonably helpful, even providing a map of Surat Thani), and had some well-earned coffee, then made for a cheap hotel nearby; the need for a shower (we were soaked in sweat due to the terror), and some sleep (I think I was the only one who could sleep on that boat), ranked pretty highly. We swapped email addresses (since we wouldn't be seeing Stefan the next day), wandered past the prostitutes in the foyer -- not that we even noticed at the time -- and hit the sack.
Next day, we got a taxi up to the tourist office/tourist police building, and explained about the theft etc. to the guy there. Unfortunately, the tourist police no longer had an office in Surat Thani, but thankfully a helpful staff member sat me down, took the details, and gave me a lift (on the back of his motorbike!) to the police station. Of course, the Ko Tao police had been blatantly lying about the lack of report forms; if the tourist officer had not helped me out with this, it would certainly have been a long and painful process. This guy was a star.
Off to Khao Sok Rainforest Park
After some cash withdrawal and buying of clothes (unsurprisingly, my attempts to buy size 10 shoes were not successful), Khao Sok was our next destination, and we made it there uneventfully on the local bus. We picked a hut complex based on its proximity to nature (there were apparently a colony of baboons on the cliffs opposite our hut), and interestingly enough, it turned out to be owned by an Irish guy who'd left Belfast in 1968 -- just in time, eh?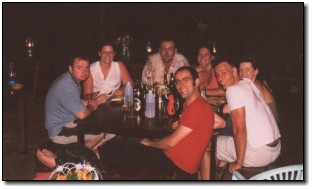 Things had definitely taken a turn for the better again. Our place was incredible -- a tree hut right beside towering pinnacles of limestone, surrounded by animals, and with a rain-water stream about 20 feet away. In fact, since the shower was pumped from this stream anyway, we washed every day in it!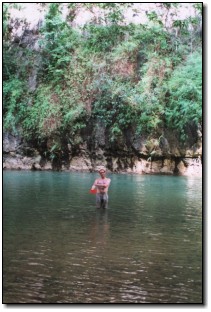 We met up with some cool German folks, Katja and Tom from Frankfurt. Tom had an incredible appetite and could put away a curry and 2 (very thick) pancakes in one sitting. Really nice people.
There was also Bob and Neasa, another Irish couple; Bob works with the Corrs, and will be touring to Melbourne in the next couple of months, so we'll hopefully meet up.
The picture below is: Bob, Neasa, two swiss people whose names I can't remember ;), Katja, Tom and myself: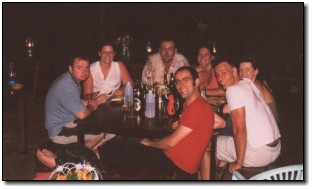 First trek was on elephant-back; well worth a go. It's amazing how these animals can clamber up 45-degree slopes covered in 3-foot deep mud, with 3 humans on their backs. Amazing, but a good grip on the howdah is definitely recommended! In fact, on the way back we rode on the elephant's neck; this is a lot easier than sitting in the howdah, so I recommend that. Poor elephants, though -- the only food they got between 3 two-hour-long trips was some sugar cane, which is probably similar to us going for that much exertion on a few Skittles.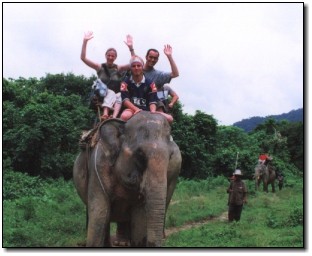 Next one was just ourselves, Katja and Tom, trekking through the rainforest along a track to an 11-step waterfall (the Thais are big into waterfalls -- I think it's a Buddhist thing). We should probably have asked before doing this one, as it turned out that the track hadn't been maintained in at least a year -- plenty of hacking at greenery was required -- and -- worst of all, for me, was totally leech-infested.
Everyone has a phobia of some sort or another, and mine is worms, and any other crawling creatures with no eyes or legs. Throw in an ability to suck your blood and you've got me freaking. Ugh!
Due to my inability to find footwear that could come anywhere near fitting my feet in Thailand, I was wearing some sandals. Thankfully I'd brought a pair of socks along, otherwise I would have been in the same boat as Katja and Tom -- who hadn't. We reckon Katja was hit with about 50 leeches on her feet and about 15 bites (they definitely preferred Katja).
Once we got about a kilometre into the rainforest, the track got narrower, more muddy, and the leeches started; from then on, there was a leech, on average, every 3 feet -- either hanging under a leaf at leg-height, or just sitting in the middle of the path waiting to some unsuspecting footwear to come into range so it could stick on, and get looping towards the skin. They're absolutely tiny (an unfed leech is stick-shaped, about 1mm wide and 3cm long), so spotting them is tricky.
Initially we'd stop to brush them off -- but this is a mistake, since the population of leeches was so high, that at any given point, there'd be several leeches within range of their senses, and once they smelled your sweat, heat, or CO2, or whatever they do, they come looping towards you. The correct thing to do is just keep going as fast as possible, before they detect you and can hop a ride!
It was rough going -- the tracks grew more and more overgrown with obnoxious thorny creepers, more and more muddy, and (in places) had slid off the side of the hill altogether for a meter or two, requiring some hanging on to roots and the like to traverse. We eventually came to some broad, flat rocks in the middle of a stream where we could stop to pick off the leeches we'd picked up, and realised that, after 3 hours of difficult trekking, we'd only made it just past the halfway point. At this point, myself and Catherine totally wussed out, reasoning that the going could only get harder, it could be tricky getting back before nightfall, and besides, I'd had enough leeches for one day!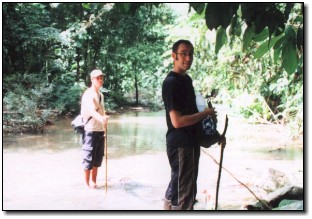 We left Katja and Tom to go on, and we turned back. We covered the trip back a lot faster than on the way up, as we'd picked up some speed-trekking skills, so the leech population on my feet was a lot less once we got out of bloodsucker territory. Still, we'd picked up a nice selection of bites. Even when you're wearing DEET-impregnated socks and striding along, the little sods are very good at wriggling under the straps of your sandals (or inside your shoes in Catherine's case) and chewing through the sock at their leisure.
On the way back to the huts we spotted some people with leech socks -- effectively long, white plastic bags that cover your feet entirely, up to your knee. Good thinking. However I think most of the main treks in the rainforest park were not as bad as the one we'd picked, as we also saw plenty of other trekkers who weren't covered in mud and leechbites to anywhere near the degree we were. ;)
Katja and Tom arrived back at the huts about an hour after we did; it turned out that the path had totally deteriorated quite quickly, effectively becoming a wall of thorns and bamboo you'd need a machete to get through.
All in all, we'd picked up well over 100 leeches between the 4 of us! Moral: don't trek on unmaintained rainforest paths during the rainy season; you'll be too busy looking at the ground to keep an eye out for any wildlife apart from the blood-sucking variety. Still, we had some great horror stories later on that night -- another couple filled us in on the white leeches in Tanzania, which are a hell of a lot bigger (and hence have more painful results). Also, apparently the Aussie rainforest features leeches that drop from the trees onto your head and neck; thankfully we were spared that. Sombrero anyone?
Thankfully, the remainder of the time in Khao Sok was leech-free. We did a canoe trip down the river, which provided the best wildlife viewing so far: several tree snakes snoozing in the branches above, lots of birds, several macaque colonies -- and even a snake eagle, which took time out to circle us high above, screeching at us to get down the river away from its nest!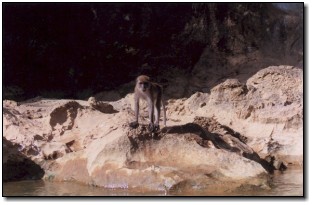 Finally, we took one final trip down the river (in inner tubes this time), then scooted off back to Surat Thani for the train to Bangkok. We'd decided to book a taxi from Khao Sok to Surat Thani, as it was pretty cheap, and we'd heard some horror stories about the local buses -- including the heavy metal bus, loaded with speaker stacks, and the porn bus, which showed hardcore porn on a TV for the driver to look at while driving. The mind boggles.
However it turned out our taxi driver had a novel way of increasing the fare. First of all, he had a side racket in importing durian (ie. breadfruit -- the stinkiest fruit I've ever smelt; definitely an acquired taste) up to Surat Thani. Next, he'd nod off while driving. Really. After we spotted him doing this, I hopped in the front (along with his durian, poo) to keep him occupied -- and awake -- with a bit of conversation; after an hour or so, he revealed that, if we bought him some beer (!!), he'd be able to stay awake. Right. The logic of this escaped me, but eventually -- once he pulled over at a roadside stall and refused to go any further -- we gave in and bought him a Coke ("beer? beer?" "no -- coke"), conveniently exhausting our cash supplies, and he was happy enough with that. Happy enough to give out about other people's driving -- and, believe me, given that the other driver was happily driving everyone else into the hard shoulder I'm not surprised.
Phew. Travelling in Thailand is tiring -- so we took the easy way out and booked a first class carriage on the overnight train. Best plan ever -- it was cheap, total luxury, and the door had a lock; no problem sleeping on this.
Back to Bangkok
We found a great hotel in Bangkok called Hotel Reno; cheap enough, but with a good location (right beside Siam Square) and clean. Definitely recommended.
Siam Square is a huge shopping precinct, with several large malls and a connecting walkway, straight out of a Japanese computer game in it's hyper-reality compared to the rest of Bangkok. It's also got some incredible bargains on the higher levels; we spotted an MP3- and VCD-player component for a TV or hi-fi system, for about 40 pounds. I picked up a computer game worth over 50 pounds for about IRP 1.20. Definitely the spot to buy software. There was also a 4-foot-tall tailfin from a US bomb that must have been picked up in Vietnam or Cambodia -- but that's a different matter, and might be trickier to lug around in hand-luggage!
Anyway, we pootled around in Bangkok for a few days, then got our flight onwards to Melbourne. That'll be another story...